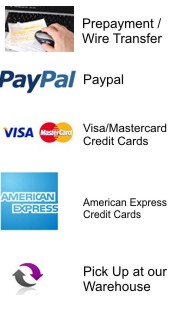 VIP Newsletter
Help about the order process
cart

In the shopping cart , please specify the quantity of items , payment method and shipping .

Through a " Go to Checkout " click on the button to start the ordering process ...

login

If you are not yet logged in, you now have to login. For this purpose, please provide your e- mail address and the password assigned by them .

If this is your first order in our shop ?

Now type in only their e -mail address and choose "I am a new customer " .

invoice address

Please provide your full billing address . In this step, you must confirm the knowledge of our Terms and Conditions . Please read our Terms and mark on this point.

Only if you are a new customer , a password must be entered .

delivery address

Select in this area please check the delivery address to which your order to be delivered. Is not present the correct address, then please create a new delivery address.

Direct Debit

Now only wish to pay direct debit to query the account information appears. Please note the correct spelling of their account information .

Order Summary

In the last step, you get an overview of all the data and all products including total amount.

By clicking on the button " Order" the order will be sent legally binding.

The purchase contract is finally concluded by the confirmation of the supplier by e -mail.